books & work online
For a complete list of creative and academic publications, see author cv; for an overview of b2b writing, see resume.
anthologies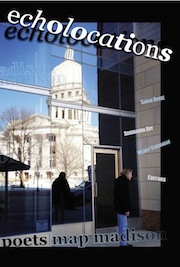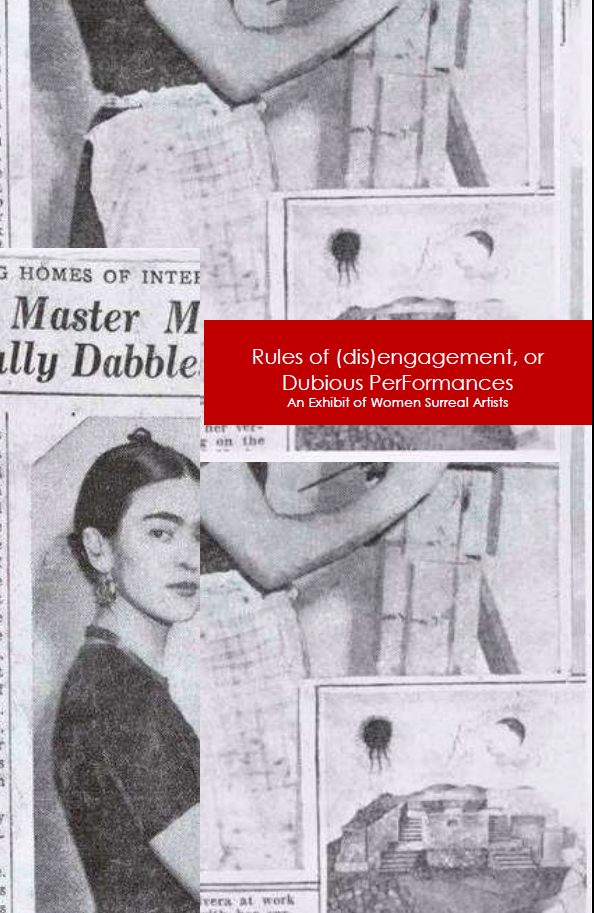 Co-edited anthology projects, local ground(s)—midwest poetics (essays), Turn Up the Volume , and Echolocations, Poets Map Madison, (poetry) embrace local content, local & social justice issues, and local ways of knowing. I also write reviews, essays & interviews of poets, which are mostly available online.
Rules of (dis)engagement, or Dubious perFormances, An Exhibit of Women Surreal Artists (2016) by myself & Sarah Sadie Busse from dancing girl press is a faux-real catalog of women's art. One part essay. One part poem. One part angry. One part cheek.
As an editor & critic, I have been interested in shaking up received paradigms and asking new questions like what is a book? what is publishing? & what is a poem, anyway? The micro press I co-founded with Sarah Busse, Cowfeather, developed out of editing & publishing Verse Wisconsin from 2009 to 2014.
Cowfeather, which has also hosted conversations and poetry-based projects online and in person, is on indefinite hiatus.
poetry
Reliquary of Debt (Lit Fest Press 2015) and Obstructed View (Fireweed Press 2009), ransack art, motherhood, religion & theatre for metaphors and images.
Reliquary of Debt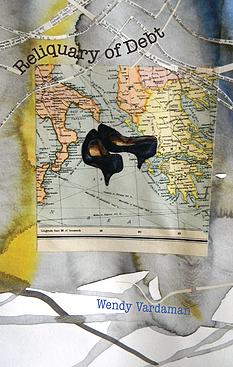 Cover art Erika Hibbert, Scattered Reliquary (detail)
ISBN-13: 978-1943170036
Available from the author or at Amazon
Reviewed in Grab the Lapels, Portage Magazine and Whale Review
Reliquary of Debt takes on the familiar topics of pilgrimage and travel in order to ask new questions about the intersections of parenting, god, economics, feminism, art, and culture.
Margaret Rozga, author of Justice, Freedom, Herbs, calls the collection "a tour de force of poetic innovation and fun."
Kimberly Blaeser, author of Apprenticed to Justice, says that the book "invites the reader to re-see the art and artifacts of our culture. … "from 'finger bones' and frescoes to the Harry Potter Platform 9 ¾. The book awakens an awareness of everyday 'debts' we owe for the lushness of food and persistence of memory, for stories like that of Saint Zita's miracle and the ones we create walking through our days together."
Susan Firer notes the mix of "dense, inclusive, polyglot poems … with dance-party rhythms, fresh language and imagery, imagination and facts."
Sonnets, syllabics, and Skypes; story and lyric; tradition and experiment; poetry and prose; old and new forms, including a sequence of factual-fictional "Wikiprosepoems" about the appearance of pumpkin in Italy and an architectural series that imitates Giotto's Arena Chapel all figure in this collection, an extended meditation on worship and want. What do we abandon, leave behind, relinquish, and forsake as we journey with fellow travelers in mixed sympathy and antipathy? How do we keep moving forward and at what cost? What do we notice and what do we ignore? How many museums and churches does one family need to see? Who decides, and does it matter?
Obstructed View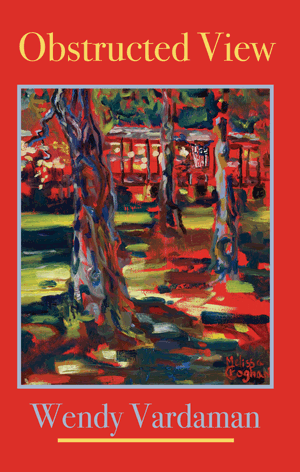 Fireweed Press 2009
Cover art Melissa Croghan

Reviews

A skilled wordsmith and storyteller, Wendy is also a consummate artist whose written poetry is the literary equivalent of a series of impressionist paintings of ordinary life events—but with words and lines instead of paints and canvas. Highly recommended for poetry readers who appreciate a touch of the 'avant garde' interpretations of the common place and the uncommon moment in verse.—Midwest Book Review, Volume 19, Number 9, September 2009
For as elsewhere in this impressive book, her real aim...is to chronicle how achievement of meaning and metaphor and insight rubs up against the forestalling claims of the material world and the quotidian, only to win out in the end, albeit in a cool, skeptical, obliquely minimal way. —K.P. Van Anglen, Religion and the Arts 14 (2010)
interviews of poets + artists
Kristy Bowen, Cowfeather Projects, June 2016
Ann Engelman, Cowfeather Projects, April 2016
Brenda Cárdenas, in Verse Wisconsin 109 (July 2012)
Kimberly Blaeser, in Verse Wisconsin 107 (November 2011)
Marilyn L. Taylor, in Verse Wisconsin 105 (March 2011)
John Koethe, in Verse Wisconsin 104 (Fall 2010), Reprinted [print version] on Poetry Daily and Poets.org
Martín Espada, in Verse Wisconsin 103 (Summer 2010), Excerpt reprinted on Poets.org
Matthea Harvey, in Verse Wisconsin 102 (Spring 2010), Reprinted [print version] on Poetry Daily and Poets.org
Todd Boss, in Verse Wisconsin 101(Winter 2010)—excerpt here
Farrideh Hassanzadeh-Mostafavi, in Eclectica Jan 2009
Robin Chapman, in Free Verse 89, 2007
Marilyn L. Taylor, in Free Verse 84, 2006
Ron Wallace, in Free Verse 81, 2005
interviews of the author
5-9: Working Writers, 2015
Midwestern Gothic Contributor Spotlight,

September 2014

"Artful Hacking," Wisconsin Institute of Discovery, August 2013
Intermittent Visitors, by Joanne Merriam
WORT-Radio Literature, 4-5-2012, by Melvin Hinton
WORT-Radio Literature, 4-21-2011, by Melvin Hinton [program on sonnets]
Wisconsin People & Ideas: 5Q-Cowfeather Press
Poemeleon: The Blog, The Habitual Poet #40 (Dec 2010)
Thanal Online, Jan 2009, by Farrideh Hassanzadeh-Mostafavi